I always love hearing clients' creative ideas and working to make them come to fruition. Usually, we can do it. I've been getting lots of requests to handwrite on sand dollars in recent years, especially for destination weddings. And why not – it's summer, and it's Florida, right? 😀
Well…mostly. From my experience, using sand dollars as escort / place cards for an event is a challenge for several reasons. Firstly, the sand dollar is a natural organism, so it's extremely fragile and may crack into pieces- not a good thing. It's also a bit porous, so when writing directly onto it with certain types of felt tip pens, the ink often feathers (bleeds). Finally, there is no way a calligrapher's metal nib and liquid ink will scratch out anything legible on an item like this.
Never fear! There are still ways of making your dream come true…
1) If you have your heart set on sand dollars at your event, you can always have a fine artist paint on them. I have seen this done and you might want to consider decorating your sand dollars with paint rather than having a paper-and-ink calligrapher do it. Here's an example of a lovely painted table number.
(photo from http://www.brides.com)
2) If you have your heart set on escort cards hand-calligraphed with pen and ink, ask your calligrapher to provide the names and table seating numbers on parchment or other card stock, making tags to attach to the sand dollars. It's a win-win – you get personalized calligraphy for your escort cards, and you still get to display them using summery sand dollars.  Here's a picture of tags I made with parchment for a recent wedding, which shows how this can be done, and another below of an example using sand dollars:
(right photo credit: Tessa McGrew)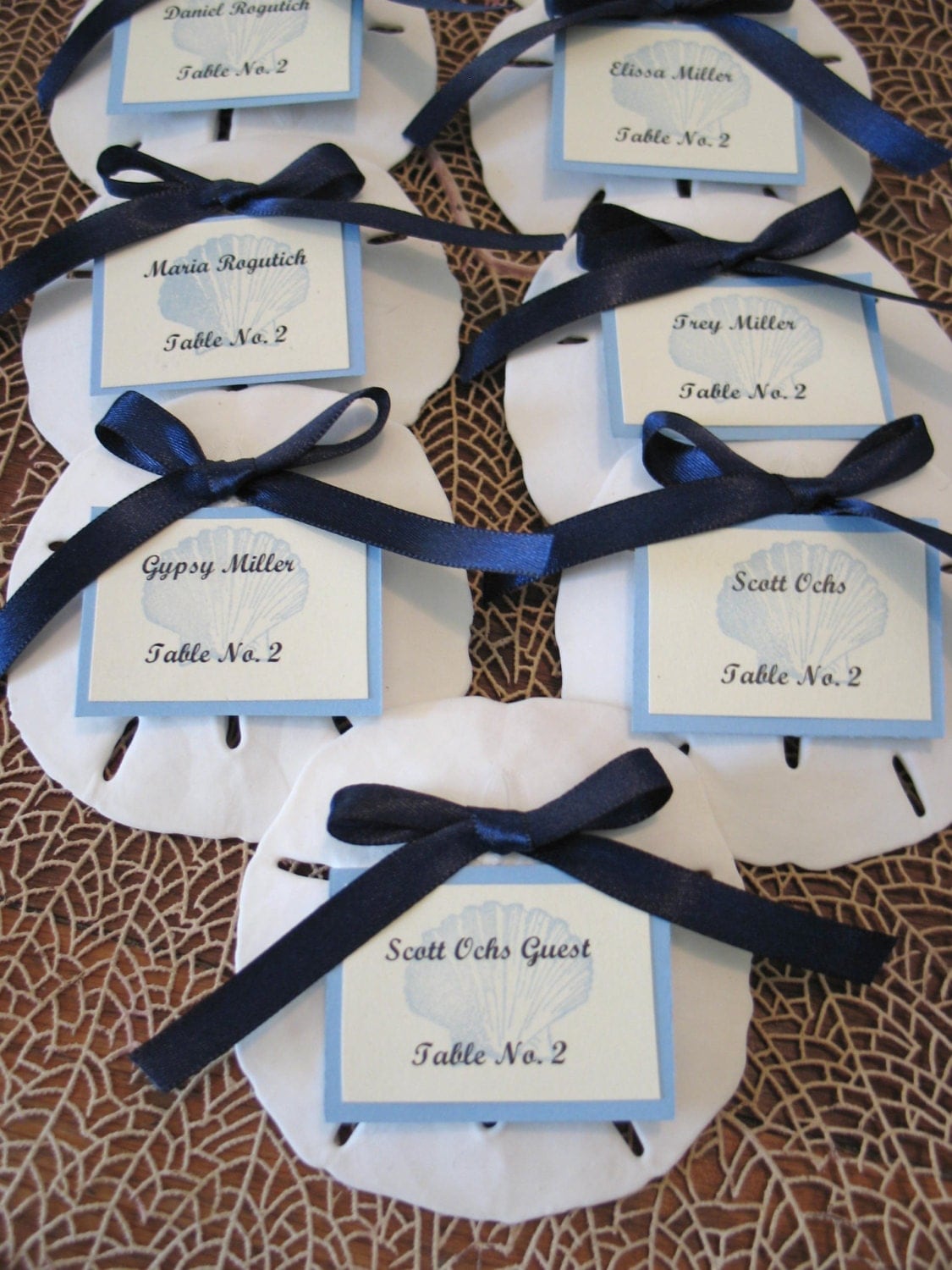 (photo taken from http://www.etsy.com)
When it's time, feel free to consult with me and we will brainstorm together!
Best wishes,
Melissa 🙂